Who says meat in the slow cooker has to be reserved for pull-apart dishes like tacos and sandwiches? With this super-simple make-ahead recipe from Meghan Splawn, the Food Editor for Kitchn's Skills content, you can enjoy crispy chicken thighs tonight — no frying in unhealthy oils needed. To keep it Phase 1-friendly, serve over white rice seasoned to taste with a side of green beans.
For more recipe inspiration, plus tons of ideas for meal planning that make life a little easier, check out The Kitchn.
Serves: 6
Vital Plan Diet Phase: 1
Prep Time: 5 minutes
Cook Time: 6-7 minutes
Ingredients:
1 tsp kosher salt
¾ tsp smoked paprika
½ tsp garlic powder
½ tsp onion powder
6 to 8 bone-in, skin-on chicken thighs (about 2½ pounds total)
Instructions:
1. In a small bowl, whisk together with a fork the salt, paprika, garlic powder, and onion powder.
2. Coat the chicken thighs evenly on all sides with the seasoning mixture.
3. In a 6-quart or larger slow cooker, place the chicken skin-side up in a single layer. It is important that the chicken thighs are skin-side up, with some space between them. Overcrowding will result in soft, rather than crispy, chicken skin.
4. Cover the slow cooker, but leave the lid slightly askew — this allows venting. Cook on the low setting until chicken is tender and the internal temperature registers 165°F, 6 to 7 hours.
5. Serve warm, or pull the meat off the bones for tacos, sandwiches, etc.
Nutrition Facts:
387 calories per serving, 29 g protein, 1 g carbs (0 g fiber), 29 g fat (8 g saturated), 406 mg sodium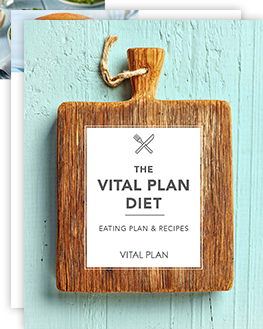 The Vital Plan Diet is a three-phase diet guide developed by Dr. Bill Rawls for promoting immune health and normal digestion. It includes 100+ recipes plus grocery lists, meal plans, and more, and its included with the purchase of select Vital Plan kits.