You'll never eat a regular pastry pie crust again. In fact, this crust is so good that you could almost eat the crust without the pie. Beyond the crust, pies are an excellent way to enjoy dessert without using flour, and pumpkin pie is always a favorite. You'll need a deep dish ceramic or glass pie dish for this recipe.
Serves: 6-8
Vital Plan Diet: Phase 2
Prep Time: 20 minutes
Cook Time: 40-50 minutes
Ingredients:
½ cup dry rice, white or brown
1 cup whole pecans, then mince after measuring
1 tbsp pasture-raised butter, plus more for coating the pie dish
4 large pasture-raised eggs, beaten
1 15oz. can organic pumpkin
1 can full-fat, unsweetened coconut milk with water poured off
½ cup softened cream cheese (optional)
1 tsp cinnamon
½ tsp sea salt
½ tsp ground ginger
½ cup table sugar and brown sugar (or sugar/stevia mix)
Ground nutmeg for dusting
Instructions:
Crust
1. Preheat the oven to 350 degrees.
2. Make the rice as directed. Jasmine rice is my preference, but the recipe works just fine with brown rice.
3. Finely mince the pecans in a food processor.
4. Remove minced pecans and place in a small mixing bowl.
5. Beat two eggs.
6. Soften 1 tbsp of butter.
7. Add cooked rice, softened tablespoon of butter, and beaten eggs to the bowl of minced pecans.
8. Mix well to incorporate.
9. Butter the bottom and sides of the dish.
10. Spoon the rice-pecan mix into the dish.
11. Rinse the spoon completely and spray the backside of the spoon with cooking spray (or use a nonstick spatula). Use the back side to press the mix flat into the dish, about ¼ to ⅓ inch thick. Start in the middle, work across the bottom, and then up the side edges of the dish.
12. Place it for about 5 minutes to fix the shell in place.
Pie Filling
1. Put the remaining ingredients, except for the nutmeg, in a medium bowl and blend by hand or with a mixer.
2. Pour mixture into the set pie crust. It's okay if the crust is still slightly warm.
3. Dust lightly with nutmeg.
4. Place the pie dish on the middle shelf of the preheated 350 degree oven.
5. Bake for 40-50 minutes, until the top is light brown or a knife or toothpick piercing the middle comes out clean.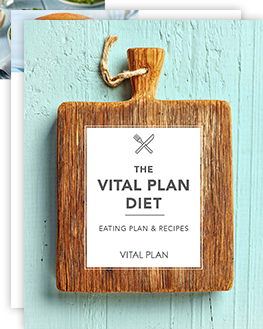 The Vital Plan Diet is a three-phase diet guide developed by Dr. Bill Rawls for promoting immune health and normal digestion. It includes 100+ recipes plus grocery lists, meal plans, and more, and its included with the purchase of select Vital Plan kits.
For more information on wellness, Learn about
Dr. Rawls' NEW book The Cellular Wellness Solution, at CellularWellness.com