If you're looking for new and tasty ways to get more heart-healthy omega-3 fatty acids, you just found it. This delicious recipe from registered dietitian nutritionist Patricia Bannan, MS, RDN, calls for a fish of your choice, and omega-3-rich options like salmon, trout, or cod pair well with the assortment of fresh veggies and herbs.
To make this fish dish 100% friendly to Phase 1 of the Vital Plan Diet, omit the lemons and white wine. Or, replace the wine with an equal amount of either veggie or chicken broth or water, and add a splash of rice wine vinegar to retain the tang of lemon.
Phase 1 folks will need to make one additional simple swap: Choose an equal amount of green beans, asparagus, or sliced carrots to use in place of the cherry tomatoes.
You might also notice that the recipe calls for baking on high heat. While Phase 1 of the Vital Plan Diet encourages low-temperature cooking, rest assured that wrapping the fish in parchment paper creates a moist-heat cooking method that prevents browning, so the recipe still fits the Phase 1 parameters. (Papillote means "in paper" or "in parchment" in French.)
Serves: 2
Vital Plan Diet: Phase 1
Prep Time: 10 minutes
Cook Time: 20 minutes
Ingredients:
1 lb lean ground turkey
12 oz filet of fish, such as trout, salmon, or cod
½ tsp kosher salt
½ tsp freshly ground black pepper
1 large shallot, thinly sliced
1 medium zucchini, sliced
½ cup cherry tomatoes, halved
½ lemon, thinly sliced (or substitute a splash of rice wine vinegar)
1 tbsp extra-virgin olive oil
3 tbsp dry white wine (or substitute 3 tbsp vegetable or chicken broth or water)
½ cup fresh herbs, such as torn basil and rosemary
Instructions:
1. Heat the oven to 400°F.
2. Line a baking sheet with a piece of parchment paper that's large enough to fold over your piece of fish with at least 3-4 extra inches around the edges.
3. Season the fillet with salt and black pepper and place it on one side of the baking sheet. Top with vegetables and lemon slices. Drizzle with olive oil and white wine, and then top with the fresh herbs.
4. Fold over the other half of parchment, then fold and pinch along edges to seal. You'll end up with a semi-circle of parchment with crimped edges, not unlike a big pot sticker.
5. Bake for 15 to 20 minutes, or until the fish is cooked through (internal temperature should reach 145°F).
6. Carefully cut open the packet, avoiding escaping steam, and serve immediately.
Nutrition Facts: 330 calories per 6 oz serving, 37 g protein, 8 g carbs (2 g fiber), 13 g fat (2 g saturated), 620 mg sodium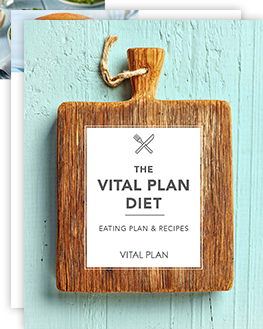 The Vital Plan Diet is a three-phase diet guide developed by Dr. Bill Rawls for promoting immune health and normal digestion. It includes 100+ recipes plus grocery lists, meal plans, and more, and its included with the purchase of select Vital Plan kits.