With summer over and fall in full swing, days can get really busy, and finding the time (and energy) to cook healthy meals can be tough, especially if you're dealing with ingredient sensitivities and dietary restrictions. To the rescue: Three gluten-free recipes that are loaded with flavor and nourishing veggies and herbs, but require minimal effort on your part. Best of all, if you're on the Vital Plan Diet, they're all Phase 1-friendly.
Egg Roll in a Bowl
Craving Chinese food but can't find anything on the takeout menu that meets your dietary requirements and restrictions? This dish from recipe blogger and health enthusiast Jessica Castaneda delivers. It skips the wrapper (goodbye, gluten!) and unhealthy deep frying, but keeps all the nourishing vegetables and savory flavor.
For those on the Vital Plan diet, this recipe is Phase 2-friendly, but it can be made for Phase 1 eaters with one simple modification: Replace the liquid aminos with an equal amount of double-concentrated veggie broth, or use Ume Plum vinegar. These substitutions can be quite salty, so taste as you go! For a heartier meal, serve over rice.
And one more time- and energy-saving tip: You can use a frozen coleslaw mix for the cabbage-carrot mix instead of chopping them up yourself.
For more healthy recipes from Jessica, visit her blog, Easy Living for Life.
Serves: 4
Vital Plan Diet: Phase 1 (with a modification) and 2
Prep Time: 5 minutes (if using frozen coleslaw mix)
Cook Time: 30 minutes
Ingredients:
1 lb lean ground turkey
2 cups shredded cabbage
2 cups shredded carrots
1 medium onion, chopped
3 cloves garlic minced
1 tsp ground ginger
3 tbsp liquid aminos
2 tsp rice vinegar
Salt & pepper to taste
Instructions:
1. Cook the ground turkey until done and remove from pan, leaving the fat
2. Add onions and garlic to the pan and sauté until nearly cooked through
3. Add the cabbage and shredded carrots (or coleslaw mix) and continue to cook about 15 minutes
4. Mix in cooked ground turkey
5. Add the Braggs liquid aminos and rice vinegar
6. Add ground ginger
7. Add salt & pepper to taste
8. Simmer for about 7 minutes
Savory Squash Sauté
This simple, five-ingredient sauté comes from Christina Mathers, a mom and blogger who's been helping herself and her family of four heal from chronic Lyme with nourishing, gluten-free meals since 2014. You can make it just as instructed, or if you want an extra hit of garlic and salt, throw 1-2 cloves of garlic in with the oil during step 1, and then finish the dish with a little sea salt to taste.
For more gluten-free recipes from Christina, check out her blog, Living Well With Lyme.
Serves: 4
Vital Plan Diet: Phase 1
Prep Time: 10 minutes
Cook Time: 10 minutes
Ingredients:
2 zucchini
2 yellow squash
1 onion
Extra virgin, cold-pressed olive oil
Garlic salt
Instructions:
1. In a frying pan over medium heat, heat 2 tbsp of olive oil.
2. Slice the zucchini, squash, and onion into thin slices.
3. Put all vegetables into the pan and sauté, stirring frequently, until onions, zucchini, and squash are soft, about 10 minutes.
4. Season with garlic salt to taste.
5. Serve immediately.
Braised Curry Celeriac
This dish from Vital Plan's Emily Grimes, a certified professional chef, is packed with immune-boosting herbs and prebiotic fiber — the kind that feeds the friendly bacteria in your gut. While celeriac (aka celery root) smells and tastes a lot like celery, it's actually part of the carrot family. It is a great source of beneficial fiber, nutrients, and minerals. Similar to other winter root vegetables, it also boasts a longer shelf life in the refrigerator.
If you've never cooked with celeriac before, don't be turned off by its knobby appearance. The flesh is super flavorful, and it's quite versatile in soups or mashed with other veggies like cauliflower or white potatoes, making it a great staple.
To prepare celeriac, just scrub and wash the root in cold running water to remove surface sand and soil. Trim off the top growth and roots at the base, and then peel the outer layer of skin with a paring knife. (If it's too knobby, a vegetable peeler will work.)
Like an apple or potato, the peeled flesh will oxidize or turn brown when exposed to air. To prevent the browning, submerge your cuttings in a bowl of acidulated water (water with a teaspoon of vinegar or lemon), and then rinse them quickly after draining before use.
This dish is hearty enough as a vegetarian entree accompanied with some rice, quinoa, or other grain of choice. It also makes a delicious chunky sauce for fish and poultry.
Serves: 4
Vital Plan Diet: Phase 1
Prep Time: 30 minutes
Cook Time: About an hour
Ingredients:
2 lbs peeled celeriac, diced into ½-inch cubes
2-3 cups water or stock of choice
1 medium onion, diced
½ tbsp minced fresh ginger (or ½ tsp dried)
⅛ tsp ground cloves
¼ tsp ground cinnamon
½ tbsp ground cumin
½ tsp turmeric
Salt and pepper to taste
3-5 tbsp coconut oil, ghee, or olive oil (divided)
1-2 tbsp lemon juice (optional)
Instructions:
1. In a medium stock pot or saucepan, add the celeriac and just enough stock or water to cover it. Simmer over low heat with the cover slightly open to allow some steam to escape. Allow to simmer or boil lightly until fork tender, about 20-30 minutes.
2. Meanwhile, in a second, broad-bottomed saucepan or high-sided skillet, add 2 tbsp oil to cover the bottom of the pan and place over low to medium heat.
3. When the oil and pan are warm, add onions and seasonings. Cook, stirring as needed, until slightly tender and translucent, about 5-8 minutes.
4. When the celeriac is tender — not mushy — when pierced with a fork, remove it with a slotted spoon and add to the sauteed onions, reserving your cooking liquid.
5. Carefully pour enough cooking liquid into the onion-celeriac mixture to cover them well. Cover the pan and simmer until the celeriac begins to break down and become meltingly-tender, about 20 minutes.
6. Remove cover and continue to cook until liquid is reduced by half, about 10-15 minutes. Season to taste with salt and pepper, and add oil of choice.
7. Season with lemon juice, if desired.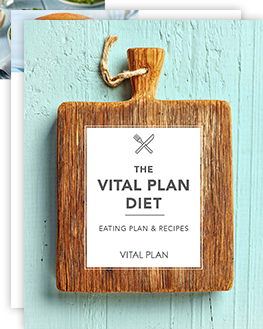 The Vital Plan Diet is a three-phase diet guide developed by Dr. Bill Rawls for promoting immune health and normal digestion. It includes 100+ recipes plus grocery lists, meal plans, and more, and its included with the purchase of select Vital Plan kits.