The combination of sweet maple syrup and savory mustard are a perfect pairing in this recipe shared by registered dietitian Stephanie Clarke, MS, RDN. Plus, it's a great source of vitamin D and omega-3 fatty acids.
To make this salmon dish 100% friendly to Phase 1 of the Vital Plan Diet*, simply omit the lemon juice or replace it with an equal amount of either rice wine vinegar or apple cider vinegar to retain the tang. You might also notice that the recipe calls for broiling on high heat, while Phase 1 encourages low-temperature cooking. Rest assured that the short broiling time does not create a browned "crust," so the recipe remains okay for Phase 1 dieters.
For more of Clarke's deliciously healthy recipes, plus tons of helpful nutrition advice, check out her website at C&J Nutrition.
Serves: 2
Vital Plan Diet: Phase 1
Prep Time: 5 minutes
Cook Time: 10 minutes
Ingredients:
1 tbsp Dijon mustard
2 tsp maple syrup
1 tsp fresh lemon juice (or substitute rice wine vinegar or apple cider vinegar)
1 tsp chopped fresh rosemary
8 oz salmon fillet, skin on or off
¼ tsp kosher salt
¼ tsp fresh ground black pepper
1 tbsp chopped fresh parsley (optional)
Instructions:
1. Heat boiler to high. In a small bowl, whisk together the mustard, maple syrup, lemon juice or vinegar, and rosemary.
2. On a baking sheet lined with foil or parchment paper, place the salmon skin side down (if the skin is left on).
3. Season the fish with the salt and pepper. Brush the mustard mixture over the top and sides of the fillet.
4. Broil on high until salmon is cooked through, about 8 minutes.
5. Garnish with parsley, if desired.
Nutrition Facts: 196 calories per 4 oz serving, 23 g protein, 6 g carbs (1 g fiber), 8 g fat (1 g saturated fat), 192 mg sodium.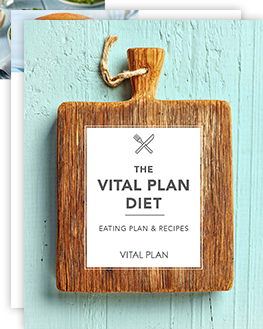 The Vital Plan Diet is a three-phase diet guide developed by Dr. Bill Rawls for promoting immune health and normal digestion. It includes 100+ recipes plus grocery lists, meal plans, and more, and its included with the purchase of select Vital Plan kits.