Here at Vital Plan, we love soup. For one, it's a delicious way to load up on vegetables and good-for-you herbs and spices like garlic, ginger, and turmeric. It's also a great make-ahead meal that you can enjoy for days in a row or freeze for a future day when you just don't have the time or energy to cook but crave something homemade.
If just reading that made you hungry, check out these five recipes from the staff and friends of Vital Plan to find one you can put on the menu for tonight.
Tangy Mulligatawny with Turkey
This gently spicy, fragrant soup from Faith Durand, the Editor in Chief of Kitchn, is chock-full of turkey, onions, ginger, and garlic. As Durand writes, mulligatawny comes from the Tamil words mulaga and tanni, meaning peppery broth; if you're on Phase 1 of the Vital Plan Diet and avoiding certain hot spices, simply omit the chile powder and substitute 1-2 tsp of apple cider or red vinegar to taste. Also, you can save a little time and energy on prep by using store-bought chicken or turkey stock, leftover turkey, frozen diced onions and fresh, peeled garlic bulbs (found in the produce section of most supermarkets).
Serves: 6
Vital Plan Diet: Phase 1
Prep Time: 30 minutes
Cook Time: 2 ½ hours
Ingredients:
Two large turkey wings, ½-1 lbs
4 small yellow onions, about 10 oz, peeled and finely diced, divided
1 inch fresh ginger, about 1 oz, peeled and sliced
4 large garlic cloves, peeled and smashed
1 tsp powdered turmeric
1 tsp ground ginger
½ tsp freshly ground black pepper
½ tsp ground cumin
¼ tsp ground coriander
¼ tsp ground black mustard seeds
¼ tsp ground chile powder
2 tbsp olive oil
2 tsp salt, divided
1 lemon, juiced, about ¼ cup
Instructions:
1. Separate the turkey wings into individual joints. Place in a 4-quart stockpot and cover with cold water.
Stir half of the diced onions into the turkey broth. Add the ginger slices and smashed garlic cloves. Bring to a boil, then lower to a gentle simmer and cook for 1 to 2 hours.
2. After at least 1½ hours of simmering, stir in the spices (turmeric through chile powder). Simmer for 30 minutes, or until the turkey is nearly falling off the bone.
3. Turn off the heat and remove the turkey wings from the broth. Set the broth aside for later. Let wings cool for 15 minutes, or until cool enough to handle. Strip off the skin and discard. Shred the meat from the bones and cut into small pieces. Discard the bones.
4. Heat the olive oil in a 10-inch sauté pan over medium heat. When hot, add the remaining diced onion and cook for several minutes, or until translucent. Add the turkey pieces and 1 tsp of salt, and cook until heated through.
5. Add the onion, turkey, remaining 1 tsp salt, and lemon juice and simmer until hot, 10 minutes. Add this mixture back to your stock and return the stockpot to medium heat until soup is heated through.
6. Serve with a garnish of fresh cilantro or a dusting of paprika, and a bowl of basmati rice. If you want a little creaminess, serve with a dollop of yogurt in the bowl.
Nutrition Facts: 171 calories per serving, 11 g protein, 7 g carbs (1 g fiber), 11 g fat (2 g saturated), 336 mg sodium
Garlic Soup
Emily Grimes, a certified professional chef and Manager of Customer Insights at Vital Plan, created this rich and creamy recipe for garlic lovers who also love boosting their immunity (garlic has powerful antimicrobial properties). "Don't be put off by the prep time, as most of it is hands off," she assures.
Emily recommends serving the soup alongside a plate of sautéed vegetables with fresh parsley, and says the leftovers also make a great sauce for baked poultry or fish. If you prefer a creamier and hardier soup, you can add some non-dairy or regular cream to desired taste and consistency, or sprinkle with Parmesan. Plus, it freezes great without the cream for make-ahead meals. Enjoy!
Serves: 4
Vital Plan Diet: Phase 1
Prep Time: 45 minutes
Cook Time: 40 minutes
Ingredients:
2 small heads garlic (25-30 cloves total), roasted*
1 medium head garlic (15-20 cloves), peeled and separated into cloves
2-3 tbsp olive oil, plus more for roasting
1 tbsp butter or ghee
2½ cups sliced yellow onions
Sea salt
Black pepper
1½-2 tsp fresh thyme, chopped
Salt
Black pepper
3⅓ cups chicken or veggie stock
Optional: Lemon wedges, cream (non-dairy or dairy), grated Parmesan
Instructions:
To roast your garlic:
1. Cut the top off the heads to expose the cloves. Place the garlic bases and any large pieces that were cut off on a square of aluminum foil and lightly drizzle with olive oil.
2. Wrap the garlic head tightly in the foil and bake at 350℉ until it feels soft when squeezed, 30-45 minutes.
3. Allow to cool, and then gently squeeze the roasted cloves into a bowl and set aside.
To make your soup:
1. In a large-bottomed stockpot over medium-high heat, add the oil and butter and heat until butter is melted.
2. Add onions and thyme and season with salt and pepper. Cook, stirring, until onions are translucent, 5-10 minutes.
3. Chop any larger raw garlic cloves into smaller pieces. Add both the raw and roasted garlic to the onions and cook, stirring, for 3 minutes. Season with a liberal sprinkling of salt and pepper.
4. Add the chicken stock and reduce to a simmer. Cover and allow to simmer until the garlic and onions are very tender, 20-30 minutes.
5. Puree in batches in a blender until creamy, and adjust seasonings as desired. Serve garnished with a drizzle of fruity olive oil and a lemon wedge for a little zing, if desired.
Creamy Asparagus Soup
Perfect for spring when asparagus is in season, this refreshing soup comes from health coach and integrative nutrition expert Jessica Schloemer of Thrive for Life Health Coaching, whose holistic approach to health and wellness makes it easier to make smart choices for your well-being. For Vital Plan Dieters, the soup is naturally Phase 1 friendly; if you're in Phase 2 and want to amp up the protein and fiber, you can add a can of organic cannellini beans (drained and rinsed) just before pureeing.
Serves: 4-5
Vital Plan Diet: Phase 1
Prep Time: 15 minutes
Cook Time: 50 minutes
Ingredients:
3 tbsp olive oil
1 large yellow onion, diced
5 stalks celery, chopped into ¼-inch pieces
2 bunches asparagus, chopped into ¼-inch pieces
Sea salt, to taste
Black pepper, to taste
¼ cup minced thyme, plus more for garnish
3 cups vegetable stock (organic,homemade, and/or boxed)
Instructions:
1. In a large pot over medium heat, heat olive oil. Add onion and cook until caramelized, 5 minutes.
2. Add celery and asparagus and cook, 7 minutes.
3. Season with salt and pepper, then add thyme and stir to combine.
4. Add vegetable stock and bring to boil.
5. Reduce heat and simmer for 30 minutes.
6. Using an immersion blender, blend until soup until creamy. This can also be done in a blender or food processor in batches.
7. Serve garnished with thyme.
Vegan Carrot Ginger Soup
Whether you're vegan or not, this creamy soup from Thyme & Joy's Valerie Skinner, one of our favorite healthy chefs, is sure to satisfy and hit the spot. It combines carrots, coconut milk, and ginger into a true comfort food, and it's all made right inside your instant pot for speed and ease. Plus, the recipe yields 12 servings, so you can enjoy leftovers for days (it stores in the refrigerator in an airtight container for 3-4 days) or freeze the soup for the future.
Serves: 12
Vital Plan Diet: Phase 2
Prep Time: 10 minutes
Cook Time: 45 minutes
Ingredients:
2 tsp avocado oil
½ white onion, diced
2 tsp fresh garlic, minced
2 tbsp fresh minced ginger
1 tsp sea salt
¼ tsp black pepper
1 pinch cayenne pepper
3 lbs peeled baby carrots
1 tbsp fresh thyme leaves, minced
5 cups vegetable stock
1 13.5 oz can coconut milk
Instructions:
1. Turn on the instant pot to sauté function and add avocado oil. Once avocado oil is hot, add the onions, garlic, ginger, salt, pepper, and cayenne pepper and sauté until onions become translucent, 5-7 minutes.
2. Add carrots, thyme, and vegetable stock, place the lid on the instant pot, and turn the vent to sealing.
3. Cook on high pressure for 15 minutes. (It will take 10-15 minutes to come to pressure before it begins to cook.) Once it's finished, do a natural or quick release.
4. Add coconut milk to cooked soup. Using an immersion blender, blend until soup is blended to a puree consistency. This can also be done in a high speed blender in batches.
5. Serve immediately.
Nutrition Facts: 109 calories per serving, 2 g protein, 12 g carbs (3 g fiber), 7 g fat (6 g saturated), 564 mg sodium
15-Minute Chicken Tortilla Soup
Another recipe from our friends at Kitchn, this one comes from Vanessa Barrington, a recipe developer with a flare for creating dishes that take minimal time and work but deliver maximum flavor. The original recipe calls for leftover shredded turkey and turkey broth, but since it's not really turkey season (aka, Thanksgiving time), leftover shredded chicken and chicken broth are equally delicious substitutes.
Serves: 4 as a first course, 2 as a meal
Vital Plan Diet: Phase 2
Prep Time: 5 minutes
Cook Time: 10 minutes
Ingredients:
4 cups chicken or turkey broth
2 large garlic cloves
1-2 tbsp chipotle chiles in adobo (check label for unnecessary preservatives)
2 small carrots, peeled and cut into bite-sized pieces
1½ cups cooked, shredded chicken or turkey meat
1 lime, juiced
Salt
Black pepper
Optional garnishes: diced avocado, crumbled tortilla chips, fresh chopped cilantro leaves, lime wedges, crumbled queso fresco
Instructions:
1. In a medium pot or Dutch oven over medium heat, heat the broth until simmering.
2. Blend the garlic with chipotle chiles and their sauce in a food processor or using a mortar and pestle until they form a paste. Check the heat level of the chile paste with ½ tbsp before adding it all.
3. Whisk the chile paste into the broth. Add the carrots and simmer until carrots are soft but still retain a bit of crispness, 10 to 15 minutes. Add the chicken and lime juice and simmer until the meat is warmed through.
4. Add salt and pepper to taste, if necessary. Serve immediately with garnishes, if desired.
Nutrition Facts: 328 calories per serving (based on 4 servings), 28 g protein, 22 g carbs (6 g fiber), 15 g fat (4 g saturated), 514 mg sodium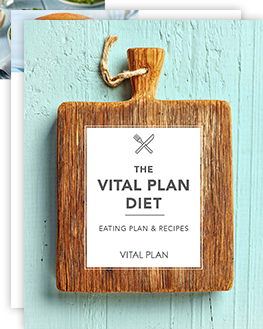 The Vital Plan Diet is a three-phase diet guide developed by Dr. Bill Rawls for promoting immune health and normal digestion. It includes 100+ recipes plus grocery lists, meal plans, and more, and its included with the purchase of select Vital Plan kits.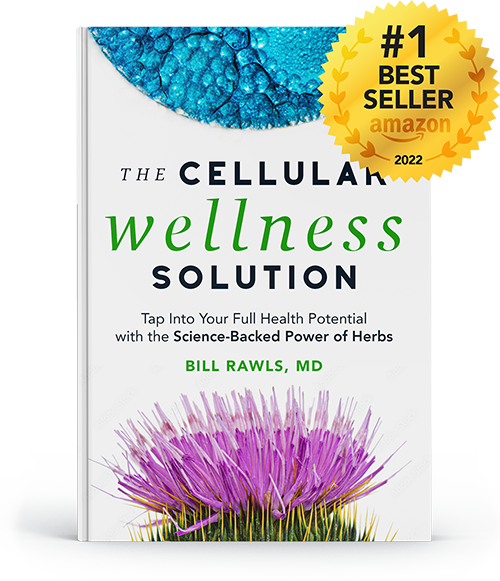 Discover more in Dr. Bill Rawls' new #1 Bestselling book: The Cellular Wellness Solution: Tap Into Your Full Health Potential with the Science-Backed Power of Herbs.